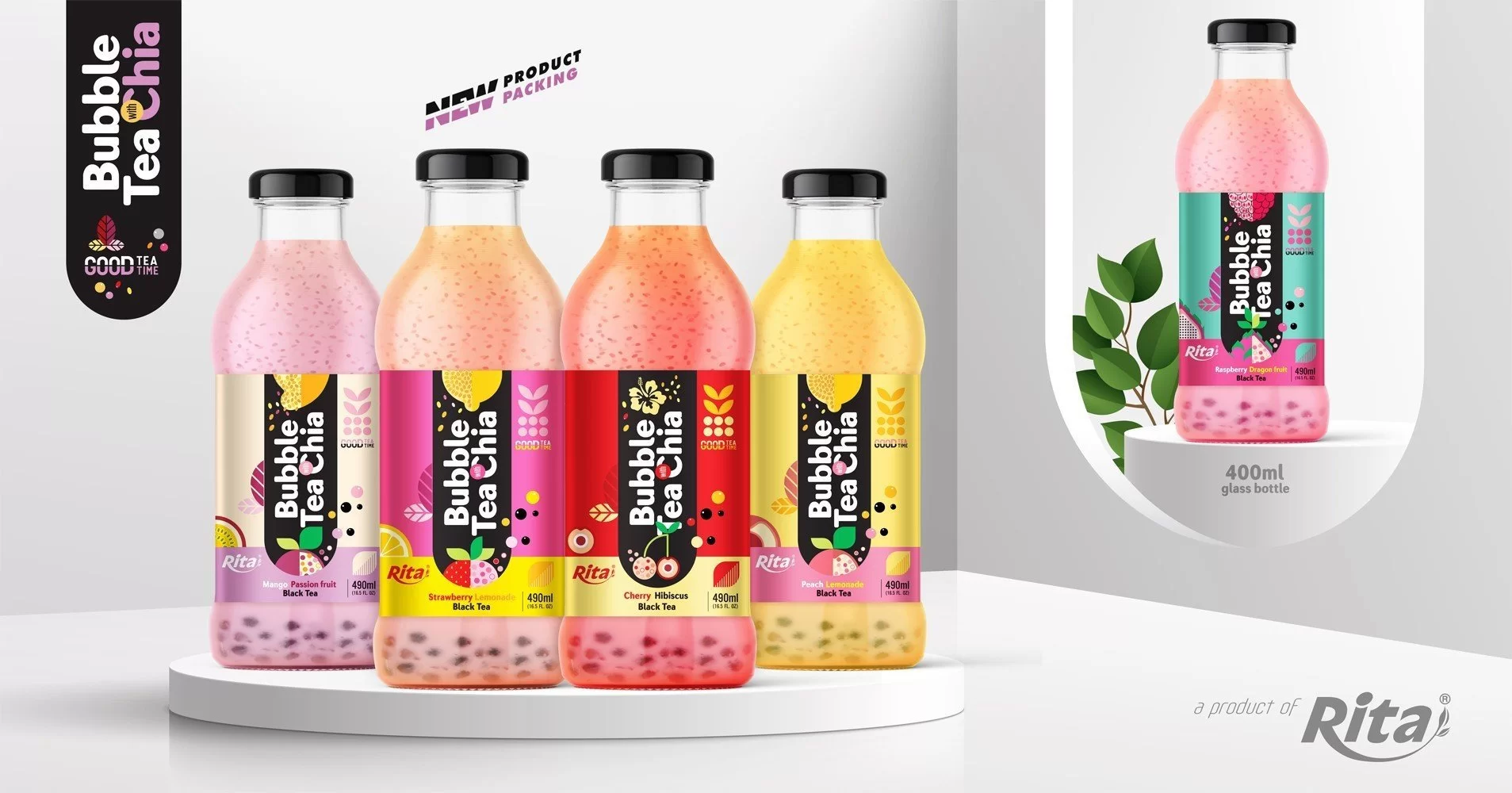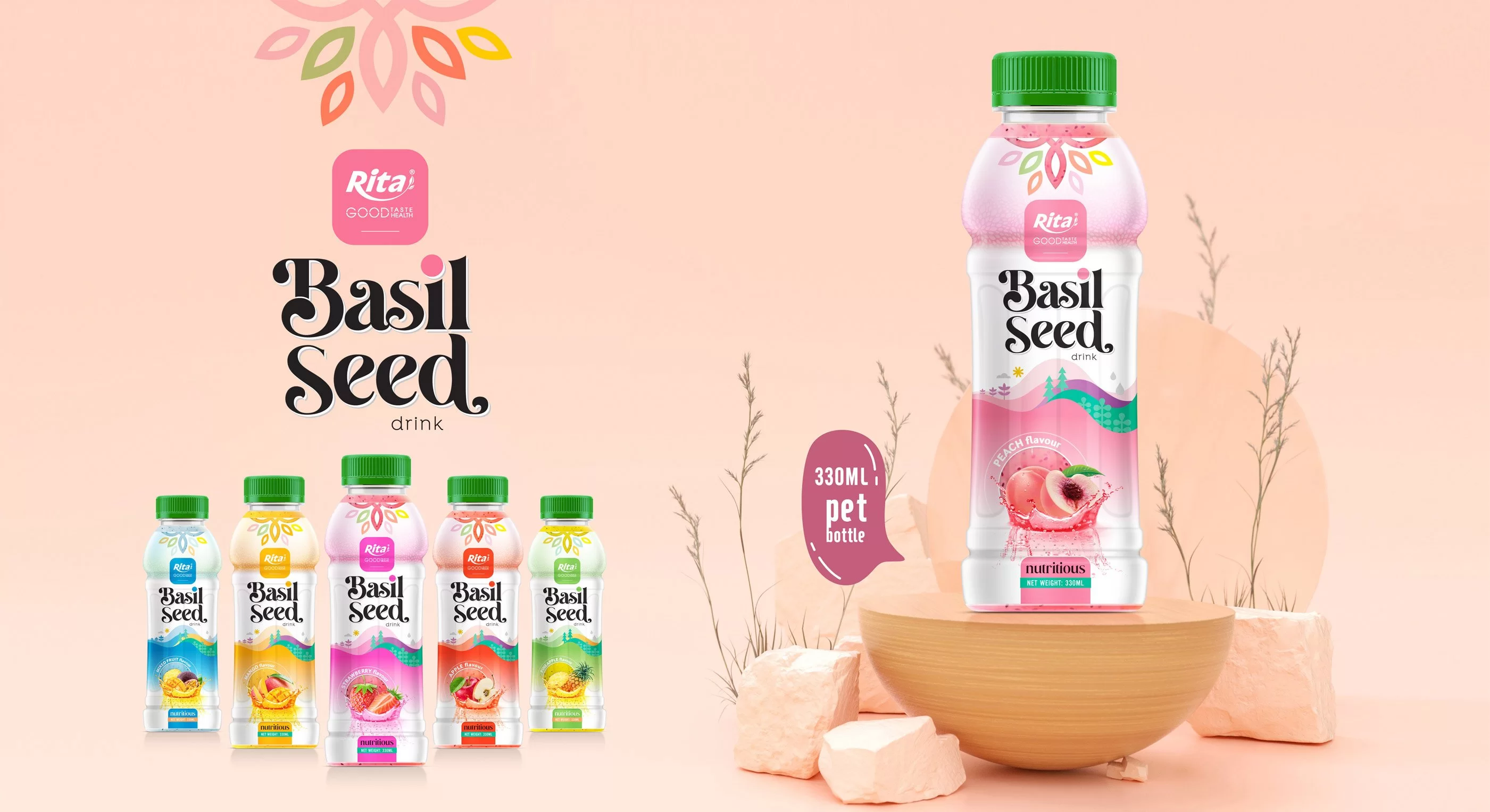 Baner web Rita Basil Seed
330ml Cans Basil Seed Drink With Tamarind Juice
Brand :
RITA or OEM/ODM available
Delivery time :
20 -25 Days after confirm the order.
Certification :
ISO, HACCP, FDA, HALAL, USDA, ORGANIC
Minimum order quantity :
200 Carton/Order
Port :
Ho Chi Minh Port, Vietnam.
Supply ability :
300 Twenty-Foot Container/Month.
330ML CAN BASIL SEED DRINK WITH TAMARIND FLAVOR

FEATURE

Rita Tamarind Juice With Basil Seed Drink offers a delightful fusion of two popular drinks - tamarind juice and basil seeds. This product boasts a sweet and sour flavor that is perfect for quenching thirst, while the inclusion of basil seeds adds a playful texture and several health benefits.

Beyond its refreshing properties, the drink also evokes fond childhood memories for generations of consumers. So, indulge in the mouth-watering and delightful taste adventure of Rita's Tamarind Juice With Basil Seed Drink.

HEALTH BENEFITS

Basil seed drink offer several potential health benefits, and when combined with tamarind juice, the resulting drink can provide a range of nutrients and advantages. Here are some possible health benefits of basil seed tamarind flavor:

1. Hydration

Basil seeds can absorb up to 10 times their weight in water, which means that consuming them in a drink like a tamarind juice can help to hydrate the body effectively.

2. Digestion

Both tamarind and basil seeds have traditionally been used to improve digestion. Tamarind contains dietary fiber that promotes regular bowel movements and prevents constipation, while basil seeds have a soothing effect on the stomach and can help to reduce bloating.

3. Antioxidants

Tamarind contains high levels of antioxidants, which protect the body against damage from free radicals. Basil seeds also have antioxidant properties that can help to reduce inflammation and promote overall health.

4. Blood sugar control

Tamarind has been shown to lower blood sugar levels and improves insulin sensitivity, which could make it a useful addition to the diet of people with diabetes. Basil seeds may also have a positive effect on blood sugar regulation.

5. Nutrient boost

Tamarind is a good source of vitamins and minerals, including vitamin C, potassium, magnesium, and iron. Basil seeds contain important nutrients like calcium, iron, and magnesium.

Overall, the combination of basil seeds and tamarind juice can provide a refreshing, tasty drink with several potential health benefits.

OVERVIEW OF RITA FOOD & DRINK CO., LTD

Established in 2004, RITA Food & Drink Company has experienced impressive growth, now encompassing a 30,000 m2 factory, over 100 cooperative farms, and a team of more than 500 employees. Every year, we supply over 30,000 tons of products globally, catering to both the Vietnamese and international markets with exports to more than 100 countries and regions. As a leading private-label basil seed drink manufacturer, we offer a range of high-quality products at competitive prices, making us an excellent partner for businesses seeking diverse product options.

Our advantages include an extensive range of products such as coconut water, coconut milk, aloe vera drink, fruit juice drink, coffee drink, tea drinks, seed drinks, and more. Our products and production lines adhere to international standards, including FDA, ISO, HALAL, HACCP, GMP, and KOSHER. We source natural, real ingredients and do not use concentrates, leveraging Vietnam's abundant tropical fruit resources.

At RITA, we provide OEM and ODM services, offering cost-effective and competitive solutions that are tailored to individual customer needs. We have a variety of product types available, and we can customize ingredients to meet specific requirements. Our low MOQ and fast delivery times make us an efficient partner for businesses.

With a complete system from design to sample productions, RITA is an experienced manufacturer and exporter familiar with global export regulations. All products of Rita are nutrient-rich and offer several health benefits, including vitamins, fiber, taurine, and more. They are good for health, enhance immunity, boost energy, improve skin health, support digestion, and more.
RITA
BEVERAGE MANUFACTURER
Milk series - RITA beverages from Viet Nam
Good taste & Good health.
We bring you a fresh, healthy, nutritional juice drink by applying creativity and innovation to nature's bounty since we are in the tropical region of Vietnam.