Pure Juice Natural Guava Fruit Juice 330ml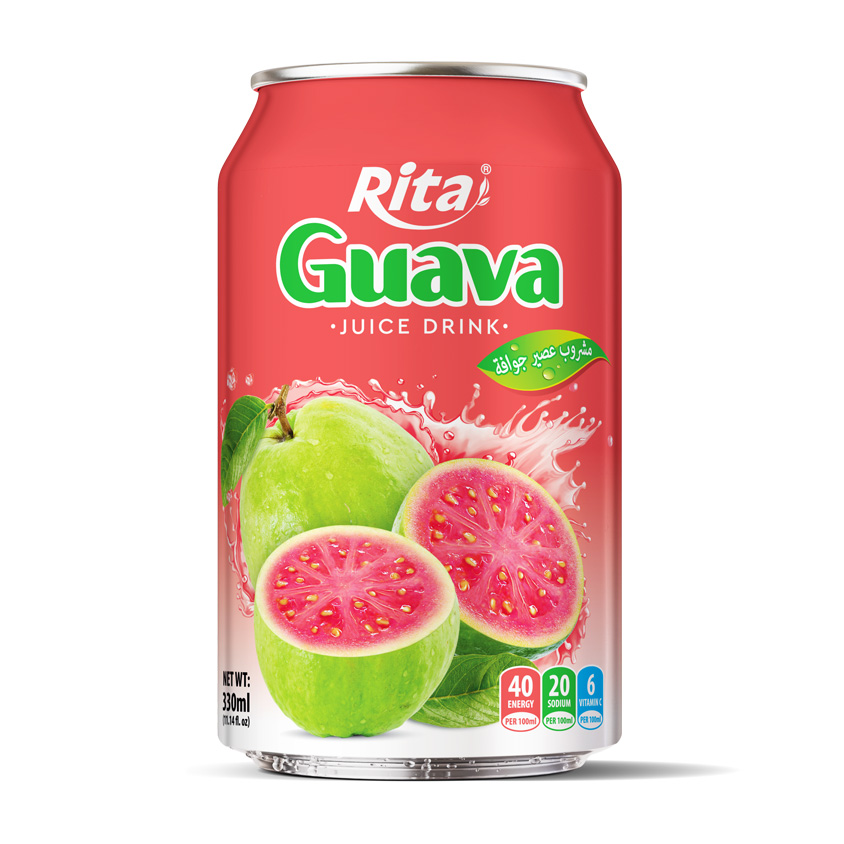 Brand :
RITA or OEM/ODM available
Delivery time :
20 -25 Days after confirm the order.
Certification :
ISO, HACCP, FDA, HALAL, USDA, ORGANIC
Minimum order quantity :
200 Carton/Order
Port :
Ho Chi Minh Port, Vietnam.
Supply ability :
300 Twenty-Foot Container/Month.
FEATURE

Guava is one of wondrous healthy fruit with amazing flavors. Depending on what ripening stage they are at, guava has a sweet and tangy flavor. Rita Guava Juice Drink combines the rich nutrients from fresh guavas with other ingredients in a perfect blend of nutrition and flavor. We are proud of each product is made to give you maximum health benefits in a great tasting beverage.

HOW TO MAKE

Rita guava juices' delicious journey to your mouth starts with carefully collected guava from premium farms and growers. In our FDA approved U.S manufacturer, we blend ingredients together due to a special traditional recipe. Once the juice is ready, we pack it into can to ensure that each product is a convenient delicious way to obtain the benefits of guava.


HEALTH BENEFITS

Being a Vietnam juice manufacturer with over 15 years of manufacturing experience, Rita offers you delicious and healthy guava juice drink.

Improves Brain Health

Guava is rich in B vitamins, B3 and B6, which can increase blood flow and stimulates cognitive function, whereas vitamin B6 is a nutrient correlated with brain and nerve function.

Helps Lose Weight

Guava is high in fiber, has no cholesterol, and a low number of digestible carbohydrates, making it a perfect fasting juice for people who want to lose weight.

Reduces The Risk of Developing Cancer

According to many scientific studies, one of the most important nutrients is found in guava, called as the carotenoid. This is a powerful inhibitor, that helps your body to get rid of the harmful free radicals that cause cancer.

Improves Heart Health

Guava fruit can improve the potassium and sodium antithesis of your body, which means that it is good for patients suffering from hypertension. Moreover, guava can lower the levels of bad cholesterol and triglycerides, which are leading contributors to the development of heart disease. That is the reason why guava fruit and its juice are goods for your heart health.

Strengthen The Immune System

Guava is rich in vitamin C, which has a powerful antioxidant. It has the same meaning as guava helps your body stays beyond illness and recovers quickly. The longer you stay sick particularly throughout bouts of colds and influenza the weaker your immunity gets.

Prevents Diabetes

Eating guava and drinking guava juice can help patients suffering from diabetes. High levels of dietary fiber has founded in guava can help lower glucose levels within the body. Recent scientific studies have shown that consuming guava and its juice will help to prevent the appearance of type-2 diabetes.

OVERVIEW ABOUT RITA FOOD & DRINK CO., LTD

Established in 2004, RITA Food & Drink Co., Ltd is one of the most experienced Vietnam Juice Manufacture. With a factory scale of 30.000 m2, 100 cooperative farms and more than 500 employees, each year we supply more than 30.000 tons of products to the market. Besides the Vietnamese market, RITA Food & Drink Co., Ltd has been exported to more than 100 countries and regions worldwide. RITA is also a reliable partner in OEM and ODM manufacturing cooperation with diverse products, quality, competitive prices.

We are in the tropical region of Vietnam:

Being geographically located in the tropical zone, Vietnam is truly a heaven when it comes to fruits. One who first comes to the country will be amazed at the countless number of colorful fruits sold at a very reasonable price in every street and market all year round.

Tropical fruits are often found very nutritious, providing a rich source of carbohydrates, vitamins (especially A and C), minerals and fibers. Its flavor is often the extreme of either sweet or sour, and many come with a particular fragrance that is unmistakable.
Due to the typical weather conditions of Vietnam, the fruit's colors are vibrantly eye-catching, with red, yellow and orange among the most popular ones. The abundance of fruits in the region also means that people use fruits in many different ways: eating raw, making juices, mixing salad, preserving jams and many other delicious desserts.
In northern Vietnam and central highland areas, where the temperature is cooler with four separate seasons, farmers also grow temperate fruits such as apple, strawberry, cherry, grape, peach, or pear, making the collection of fruits in Vietnam an extremely rich one.

Working with us:

When you work with us you will be satisfied with the quality and our service:

1/ Passed the certificate of FDA/HACCP/ISO/SGS/QS/KOSHER/HALAL etc;

2/ More years of experience serving the world's supermarkets, online shops, wholesalers, importers, Retail stores.

3/ Working with us, you can lower your cost for premium drinks, as we are a direct factory and have the economy of sale, Our staff will assist, advise you for your distribution.

4/ Our products are made from natural ingredients, real fruit, not from concentrated, no preservative.

5/ Right reserved attractive bottle, can shapes, make follow your request for bottle, can ...

6/ Free samples, free design label and supporting promotion;

7/ Our design team offering original designs, barcodes, private brands will give you a more beautiful design.

8/ Provide the OEM.

9/ Competitive Rate.

Rita's beverage factory

The reasons why you can rely on us for quality drinks:

- Fruit harvesting properly ensures sweet and sour moderation.

- Only select the fresh and hygienic fruit as raw material.

- Professional R&D team keeps improving the formula and process to get better taste and high-quality beverages.

- Talented design team offering original designs for labels, packages, barcodes.

- Abundant experience serving the world's supermarkets, online shops, wholesalers, importers.

- Lower your cost from free samples and design labels.

- Improve your competition by supporting promotions regularly.

- Right reserved attractive bottle shapes.

Rita's beverage factory

Rita Food and Drink Co.,Ltd are a leading name in manufacturing and exporting the best fruit juice.

RITA

EXHIBITION




RITA
BEVERAGE MANUFACTURER
The best Noni juice - RITA beverages from Viet Nam
Good health & Good taste.
We bring you the fresh, healthy, nutritional juice drink by applying creativity and innovation to natures bounty, since we are in the tropical region of Vietnam.