Strawberry Pisco Punch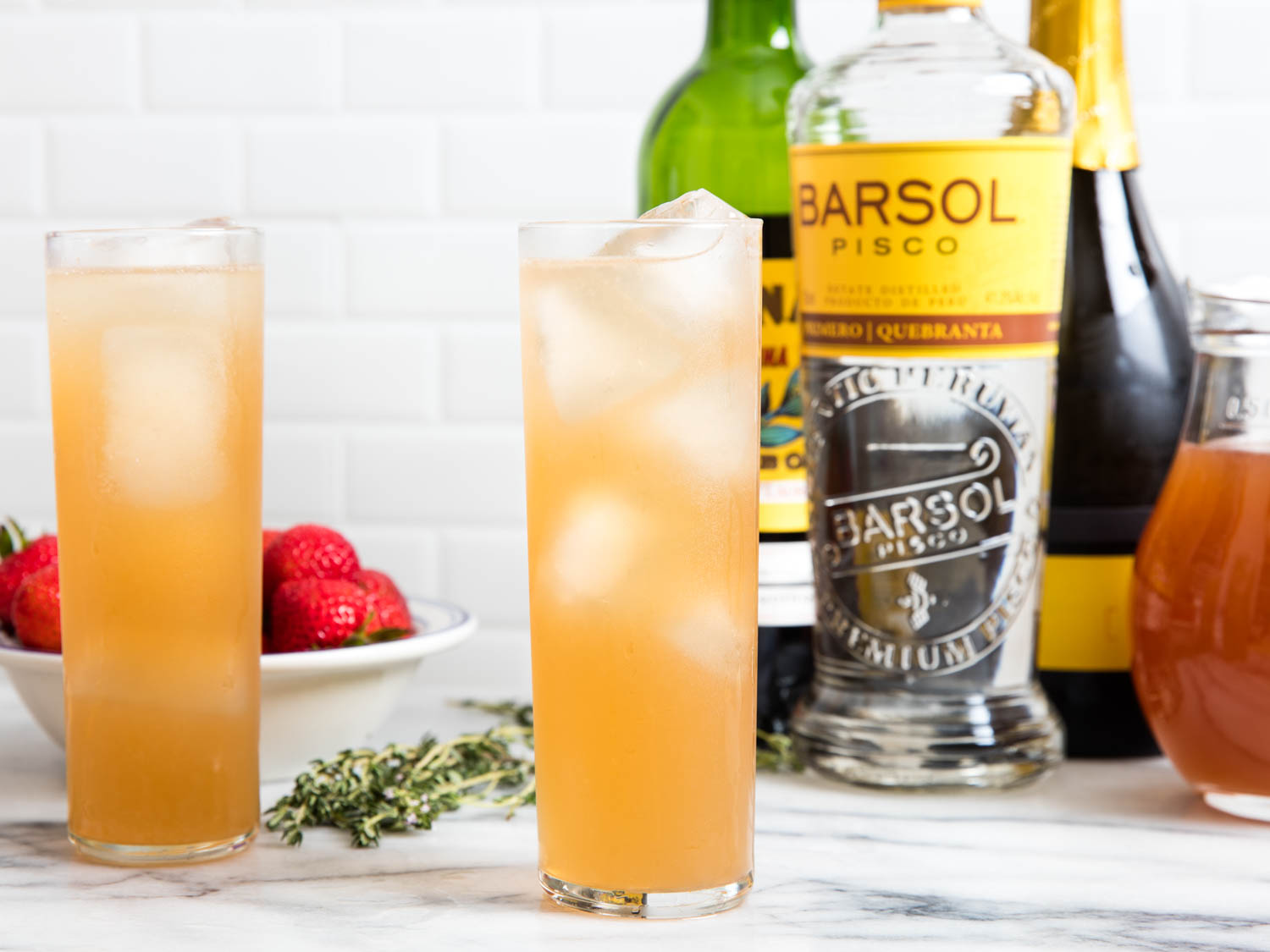 I like to simplify. I like to make dinner from what I've got in the pantry, and make cocktails with the bottles in my liquor cabinet. I'm loath to tell you to buy something new just to make a drink...but that's exactly what I'm going to do. I promise you, this punch is worth it.
Designed by Zac Overman of Seattle's Sitka & Spruce, this is the perfect prep-ahead summer party drink. Like no other punch I've tried before, it captures the juicy, complex flavor of a ripe strawberry by bolstering that flavor with a few special ingredients. It starts with the berries, of course, plus fresh thyme, tart lemon, and fizzy, bright sparkling wine.
The key addition is a bittersweet, fortified wine–based aperitif called Bonal. As Brad Thomas Parsons, author of Bitters and the upcoming Amaro, wrote me in a recent email, this stuff is remarkably flavorful and complex: "What I love about amaro and spirits like Bonal—with its double-hit of woody bitterness from cinchona and gentian—is that each bottle can play well as a modifier or base in a cocktail, but on their own over ice, the balance of spirit, herbs, sweetener, and bitterness packs as much complexity in the glass as a well-made cocktail."
Bonal is earthy and herbal, with vivid plummy flavors: "The deep, rich fruit ties in the strawberry flavor" in this drink, notes Overman. "And the herbal components blend really well with the thyme." If you're a fan of Carpano Antica sweet vermouth, you'll like Bonal, too; they have a lot in common, though Bonal is a bit lighter and a bit more bitter. "Bonal actually dries the drink out and keeps it from becoming too sweet," explains Overman.
The last key ingredient—the spirit base—is a bit more flexible. At Sitka & Spruce, the punch is made with Vitis Pinot Gris Aguardiente, a grape brandy made in the pisco style by a Chilean-born distiller in Woodinville, Washington. (It can't be called pisco, since it's not made in Chile or Peru.) Feel free to track it down, but Overman says you can use pisco instead; BarSol Primero Quebranta works wonderfully.
You'll start by whipping up an easy, fantastically aromatic berry syrup, simmering quartered strawberries and thyme together with water and sugar. This part can be done up to a week in advance, and you can use the leftover syrup to add flavor to seltzer for any non-tippling guests.
You'll add a bit of the strawberry syrup to a mix of pisco, Bonal, and lemon; throw it in the fridge until you're ready to go, or put this punch mix in a pitcher and serve immediately. Each glass gets filled with ice, then a few ounces of sparkling wine and the punch mix. You might want to keep a second batch on hand—this stuff has a way of disappearing quickly.
Ingredients
For the Strawberry-Thyme Syrup:
1 cup (240ml) water
1 cup (195g) sugar
1/2 cup quartered strawberries (about 5 to 6 small berries; 65g)
7 sprigs fresh thyme
For the Punch Mix:
4 ounces (120ml) Strawberry-Thyme Syrup
6 ounces (180ml) pisco (such as Barsol)
6 ounces (180ml) Bonal
6 ounces (180ml) fresh juice from 4 lemons
To Serve:
1 (750ml) bottle dry sparkling wine, chilled
Directions
1. For the Strawberry-Thyme Syrup: Add water, sugar, strawberries, and thyme to a small saucepan and bring to a simmer over medium heat, stirring to dissolve sugar. Simmer 30 minutes, stirring occasionally. Strain through a fine-mesh strainer to remove solids. Let cool before using. Syrup can be refrigerated up to 1 week.
2. For the Punch Mix: Combine Strawberry-Thyme Syrup, pisco, Bonal, and lemon in a small lidded pitcher or quart-size Mason jar. (You will have 22 ounces of the punch mix.) Stir to combine. At this point, mix can be used immediately or covered and refrigerated up to 10 hours. Extra Strawberry-Thyme Syrup can be served with seltzer for a nonalcoholic drink.
3. To Serve: Fill each Collins glass with ice. Add 3 ounces sparkling wine and 2 3/4 ounces punch mix to each glass and stir gently. Serve immediately.