Coconut Milk With Banana Flavor 290ml Glass Bottle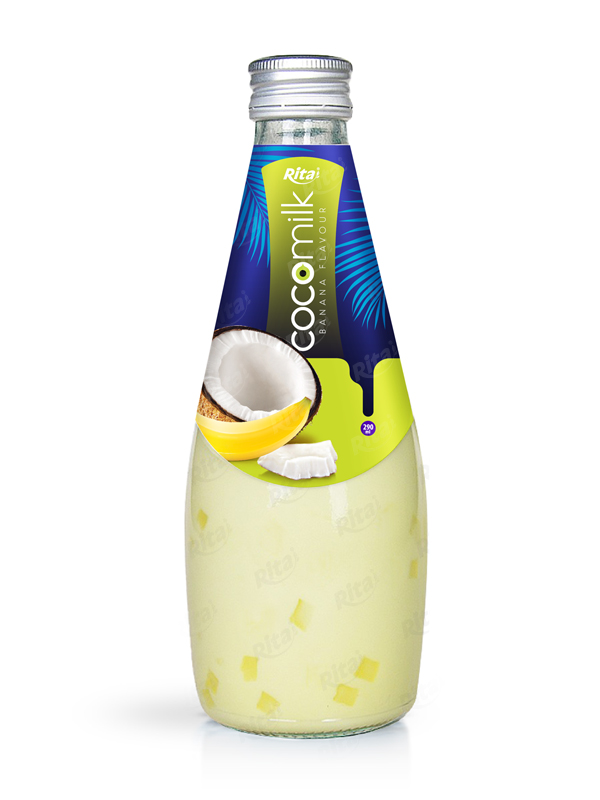 Brand :
RITA or OEM/ODM available
Delivery time :
20 -25 Days after confirm the order
Certification :
ISO, HACCP, FDA, HALAL
Minimum order quantity :
1 Twenty-Foot Container
Port :
Ho Chi Minh Port, Vietnam
Supply ability :
200 Twenty-Foot Container per Month Canned bottle production base---10000 tons/month PET bottle production base---10000 tons per month QC LAB--20 professional QC team
Being one of the coconut milk manufacturers, Rita creates a delicious and healthy drink for you with the sweet taste of coconut milk and ripe banana.

---

FEATURES

Being growth in lush alluvial plain of Mekong Delta, the coconut, collected here, are always sweet and have lots of benefits for your health.

Banana is one of the most likable fruit in the world due to its aroma and flavor.

Rita Coconut Milk with Banana Juice is a sweet and creamy combination of ripe banana and greasy coconut milk. The perfect blend is the best choice to build your energy with all the goodness of the tropical fruits.

HOW TO MAKE

Being one of Vietnamese coconut milk manufacturers, we only collect high-quality coconut from Mekong Delta to produce coconut milk. We also use ripe banana to create the sweet and creamy combination. With the modern manufacturing and quality control systems from our factory, we pack the coconut milk with banana juice carefully to help to preserve its flavor and nutrients.

HEALTH BENEFITS

Prevents heart disease

Coconut milk can help to reduce the levels of LDL cholesterol (bad cholesterol) in the body. LDL cholesterol promotes the formation of plaques in blood vessels causing pathological narrowing. When blood vessels supplying the heart muscles are narrowed, heart attacks can result.

Prevents anemia

Coconut milk is rich in iron which is an important mineral in the formation of healthy red blood cells. That is the reason why drinking coconut milk can help you avoid anemia that often results from the inadequate iron intake.

Improves the immune system

Coconut milk contains lauric acid that is known for its antiseptic properties. Lauric acid helps to assist the body in fighting infections caused by bacteria, viruses, and fungi.

Strengthens the bone

Coconut milk and banana are rich in calcium and vitamin D. Two minerals help to foster and strengthen bone density and structure.

Improve Emotions

Banana contains natural sugar that are beneficial in helping you feel better. It also is rich in potassium and tryptophan, make banana an excellent mood stabilizer, capable of reducing symptoms of stress and anxiety.

Strengthens the muscle

Banana juice contains simple carbohydrates that quickly replenish muscle glycogen that is consumed during workouts. It is also a rich source of potassium that promotes muscle development and function.

OVERVIEW ABOUT RITA FOOD & DRINK CO., LTD

Established in 2004, RITA Food & Drink Co., Ltd is one of Vietnamese coconut milk manufactures. With 100% foreign invested capital, factory scale of 30.000 m2, 100 cooperative farms and more than 500 employees, each year we supply more than 30.000 tons of products to the market. Besides Vietnamese market, RITA Food & Drink Co., Ltd has been exported to more than 100 countries and regions worldwide. RITA is also a reliable partner in OEM and ODM manufacturing cooperation with diverse products, quality, competitive prices.
RITA
BEVERAGE MANUFACTURER
The best smoothie tropical fruit - RITA beverages from Viet Nam
Good health & Good taste.
We bring you the fresh, healthy, nutritional juice drink by applying creativity and innovation to natures bounty, since we are in the tropical region of Vietnam.