Betel Nut Energy Drink Refreshing Awake Energy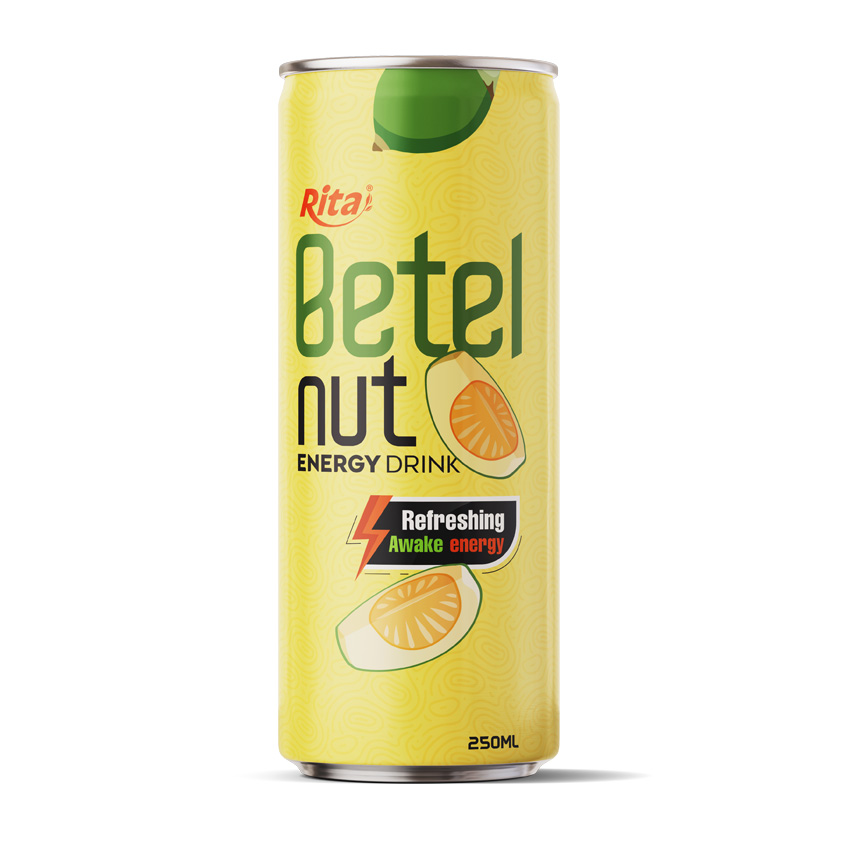 Brand :
RITA or OEM/ODM available
Delivery time :
20 -25 Days after confirm the order.
Certification :
ISO, HACCP, FDA, HALAL, USDA, ORGANIC
Minimum order quantity :
200 Carton/Order
Port :
Ho Chi Minh Port, Vietnam.
Supply ability :
300 Twenty-Foot Container/Month.
BETEL NUT ENERGY DRINK 250ML CAN

FEATURE

Forget about energy drinks with traditional flavor. Rita gives you a new taste that you've never thought of before. Betel nut flavor! The taste explodes in the oral cavity and brings instant alertness to the brain. RITA Betel Nut Energy drink are packed with caffeine, taurine, B group vitamins, etc. Combined, these minerals can be extremely helpful when you are in need of a boost. The new inspiration for the new adventure.

Taurine is an organic compound known as an amino acid which is a building block of human proteins. Taurine may be good for your brain health, your eyes and your heart health. It also helps to improve cholesterol and prediabetes.

Caffeine is a natural stimulant most commonly found in tea, coffee and cacao plants. The main effect of caffeine is on the brain by blocking the effects of the neurotransmitter adenosine.

B group vitamins have many important functions and are vital for maintaining good health. B group vitamins include Vitamin B1, Vitamin B2, Vitamin B3, Vitamin B9, Vitamin B12, etc.

HEALTH BENEFITS

1. More energy

Like the name, the first benefit is providing energy for your body. Energy drink contains caffeine and can support wakefulness and feelings of being alert. Drink a can of energy drink and you will be surprised at the ways it helps you to pay attention.

2. Mood improvement

When you feel tired, you will get a little grumpy, right? Some studies show that energy drink can help to improve your mood by helping you feel better.

3. Fast recovery

Drinking energy drink can help you recover faster after exercises or hard work out by having more caffeine and vitamins.

4. Fast delivery

Energy drink is usually served cold that you can drink it faster than hot coffee or other caffeinated beverage. Because of drinking faster, it means a quicker consumption and the caffeine gets into your system much faster.

5. Brain function

Energy drink can reduce mental fatigue and improve measures of brain function, such as memory, concentration and reaction time.

6. A good source of vitamins B

Energy drink contains B group vitamins such as vitamin B2, B3, B12, B6, etc. These vitamins play an important role in your overall bodily function and are crucial to maintaining good health and general well- being.

OVERVIEW ABOUT RITA FOOD & DRINK CO., LTD

Established in 2004, RITA Food & Drink Co., Ltd is one of the energy drink manufacturers. With 100% foreign invested capital, factory scale of 30.000 m2, 100 cooperative farms and more than 500 employees, each year we supply more than 30.000 tons of products to the market. Besides Vietnamese market, RITA Food & Drink Co., Ltd has been exported to more than 100 countries and regions worldwide. If your company is in need of cooperation with private label energy drink manufacturers, RITA will be your great partner with diverse products, quality, competitive prices.
RITA
BEVERAGE MANUFACTURER
Fruit Juice Suppliers Manufacturers
Good health & Good taste.
We bring you the fresh, healthy, nutritional juice drink by applying creativity and innovation to natures bounty, since we are in the tropical region of Vietnam.