Delivery time :
20 -25 Days after confirm the order.
Certification :
ISO, HACCP, FDA, HALAL, USDA, ORGANIC
Minimum order quantity :
200 Carton/Order
Port :
Ho Chi Minh Port, Vietnam.
Supply ability :
300 Twenty-Foot Container/Month.
Our Certificates
BASIL SEED DRINK WITH POMEGRANATE FLAVOR – FUN FOR YOUR MOUTH, GOOD FOR YOUR BODY

PRODUCT INFORMATION

+ Volume: 290ml

+ Packaging: Glass Bottle

+ Ingredients: Water, Sugar, Pomegranate Juice 30%, Basil Seeds 7%, Citric Acid (330), Ascorbic Acid (L-) (300), Gellan Gum (418), Pomegranate Flavor, Colors (124, 150d).

+ Storage conditions: Store in dry and cool place

+ Shelf life: 18 months

+ Sample: Free

+ Payment term: L/C, T/T

+ FOB Latest Price

+ Delivery time: 20 – 25 days after confirm order

+ Certification: ISO, HACCCP, FDA, HALAL

+ Minimum order quantity: 200 carton/order

+ Port: Ho Chi Minh Port, Viet Nam

BASIL SEED DRINK WITH POMERAGATE FLAVOR JUICE – FUN FOR YOUR MOUTH, GOOD FOR YOUR BODY

Basil seeds are also called Sabja, Tukmaria which have lots of nutrition facts when soaked in water and consumed. These seeds are known for having antioxidant, anticancer, antiviral, antibacterial, antispasmodic and antifungal properties.

Pomegranate is a juicy fruit with a sweet and tarty flavor. This beautiful fruit is packed with nutrition, containing antioxidants, vitamin C, fiber, and iron.

We combine the high quality basil seeds with amazing taste of pomegranate fruit to create a delicious and healthy drink. This perfect and yummy combination will go straight to your heart.

+ Good Source of Fiber

+ Powerful Antioxidants

+ Lightly Sweetened

+ Enrich vitamins

+ Glass Bottle, Environmentally Friendly

HEALTH BENEFITS

Helps in Weight Loss

These little basil seeds and lychee can work wonders for weight management base on the great source of fiber make you feel full for longer. It is also low in calories which can reduce appetite.

Reduces Body Heat

Basil seeds can help in reducing your body heat as these seeds work as a natural coolant. This is why it is used in many detox drinks.

Prevents Cold and Flu

Basil seeds can help in preventing cold and flu. The antispasmodic properties of basil seeds can cure dry cough and relax the muscles.

Controls Blood Sugar Levels

Basil seeds may low down the metabolism of your body and controls the conversion of carbs into glucose. It is considered to be good for type II diabetes patients.

Improves Digestion

Pomegranate juice can reduce inflammation in the gut and improve digestion. It may be beneficial for people with Crohn's disease, ulcerative colitis, and other inflammatory bowel diseases.

Hydrates Your Skin

Pomegranate juice is rich in vitamin C which research has proven is effective in treating dull and dry skin.
Video RITA beverage manufacturing:
Coconut water - RITA beverages from Viet Nam
EXCELLENT
PRODUCTS
We are proud to bring to our customers healthy products with highest quality and greatest taste.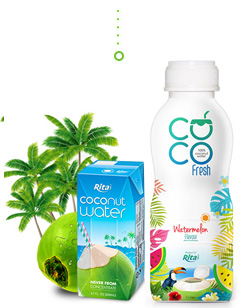 OUR RAW MATERIALS
SUPPLY
Our fruit are carefully chosen from the renowned farms tropical fruit of Vietnam - known for their high yield and high quality.
UNIVERSAL DISTRIBUTION
SYSTEM
Our products are present in over 50 nations worldwide.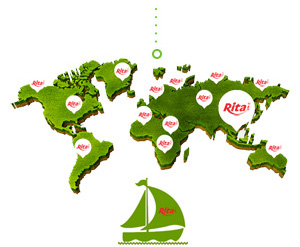 COMMITMENT TO QUALITY PRODUCTS
During our production process, all steps are strictly supervised and controlled, from raw material input to final products, and toxic chemicals are absolutely free of use to make sure our products meet international standards. RITA's products have achieved important certificates for both the domestic and international markets, including: ISO,KOSHER, HALAL, ORGANIC (USDA, EU), FSSC 22000, FDA, BSCI,and so on
Our products are presented in over 50 nations worldwide.
Sign up for our latest newsletter.