Aloe Vera Pulp Juice With Apple 500ml Pet Squares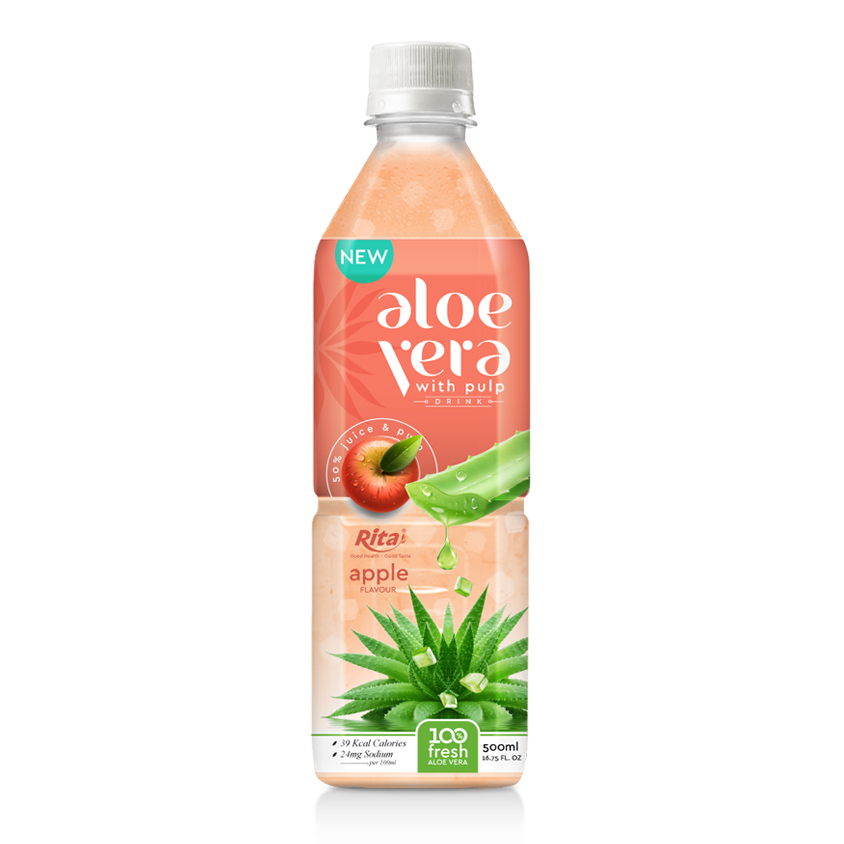 Brand :
RITA or OEM/ODM available
Delivery time :
20 -25 Days after confirm the order.
Certification :
ISO, HACCP, FDA, HALAL, USDA, ORGANIC
Minimum order quantity :
200 Carton/Order
Port :
Ho Chi Minh Port, Vietnam.
Supply ability :
300 Twenty-Foot Container/Month.
Aloe Vera Pulp Juice with Apple

Aloe Vera Pulp Juice with Apple is a nutritious and delicious blend of two superfoods, aloe vera and apples. This drink combines the health benefits of both ingredients to create a unique and healthy beverage that is perfect for anyone looking to improve their overall well-being.

Aloe vera is known for its numerous health benefits, including its ability to soothe skin irritation, boost the immune system, and aid in digestion. It is also rich in antioxidants and vitamins that help to fight against cellular damage and improve overall health.

Apples, on the other hand, are a good source of fiber, vitamins, and antioxidants. They are also low in calories and high in nutrients, making them a great option for those looking to maintain a healthy diet.

The combination of aloe vera and apples in this juice creates a delicious and nutritious drink that is easy to enjoy. The aloe vera pulp is carefully extracted from the plant and blended with freshly squeezed apple juice to create a smooth and refreshing juice that is packed with nutrients.

This juice is perfect for anyone looking for a healthy alternative to sugary drinks and it's easy to find in most health food stores and supermarkets. You can also enjoy it as a morning or afternoon drink, or as a pre- or post-workout boost. So why not try Aloe Vera Pulp Juice with Apple today and start experiencing the numerous health benefits of this delicious and nutritious beverage?

Overview Rita

Established in 2004, RITA Food & Drink Co, ltd. is proud to be one of the leading beverage companies in Vietnam. With a factory scale of 30,000 m2, 100 cooperative farms, and more than 500 employees, each year we supply more than 30,000 tons of products to the market. Besides the Vietnamese market, RITA Food & Drink Co, ltd. has been exported to more than 100 countries and regions worldwide. RITA is also a reliable partner in OEM and ODM manufacturing cooperation with diverse products, quality, and competitive prices.

The advantages of Rita

+ Products and production lines get international standards including FDA, ISO, HALAL, HACCP, GMP, KOSHER, etc.

+ Products are created from natural-real ingredients; not from concentrate. Abundant tropical fruit resources in Vietnam

+ Provide OEM and ODM service

+ Cost effective and competitive, good for distribution in customer's market

+ Various products types are available, flexible in customizing ingredients

+ Low MOQ of products and fast delivery

+ Complete system from design and samples productions

+ Experienced manufacturer and exporter, familiar with the regulations on exporting all over the world.

+ Products are rich in beneficial nutrients including vitamins, fiber, taurine, etc.

+ Products are good for health; including enhancing immunity, boosting energy, improving the health of skin, supporting digestion, etc.

+ Many kinds of packing including aluminum can, pet bottle, glass bottle, paper box, pp bottle, etc.

+ Many kinds of volume including 200ml, 250ml, 280ml, 290ml, 330ml, 350ml, 400ml, 450ml, 500ml, 1000ml, etc.

Rita Food and Drink Co.,Ltd are a leading name in manufacturing and OEM/ODM exporting beverage own brand at Vietnam.

RITA

EXHIBITION




RITA
BEVERAGE MANUFACTURER
Aloe vera Box paper - RITA beverages from Viet Nam
Good health & Good taste.
We bring you the fresh, healthy, nutritional juice drink by applying creativity and innovation to natures bounty, since we are in the tropical region of Vietnam.